Cooking For Your Cat: Salmon Surprise Cake Recipe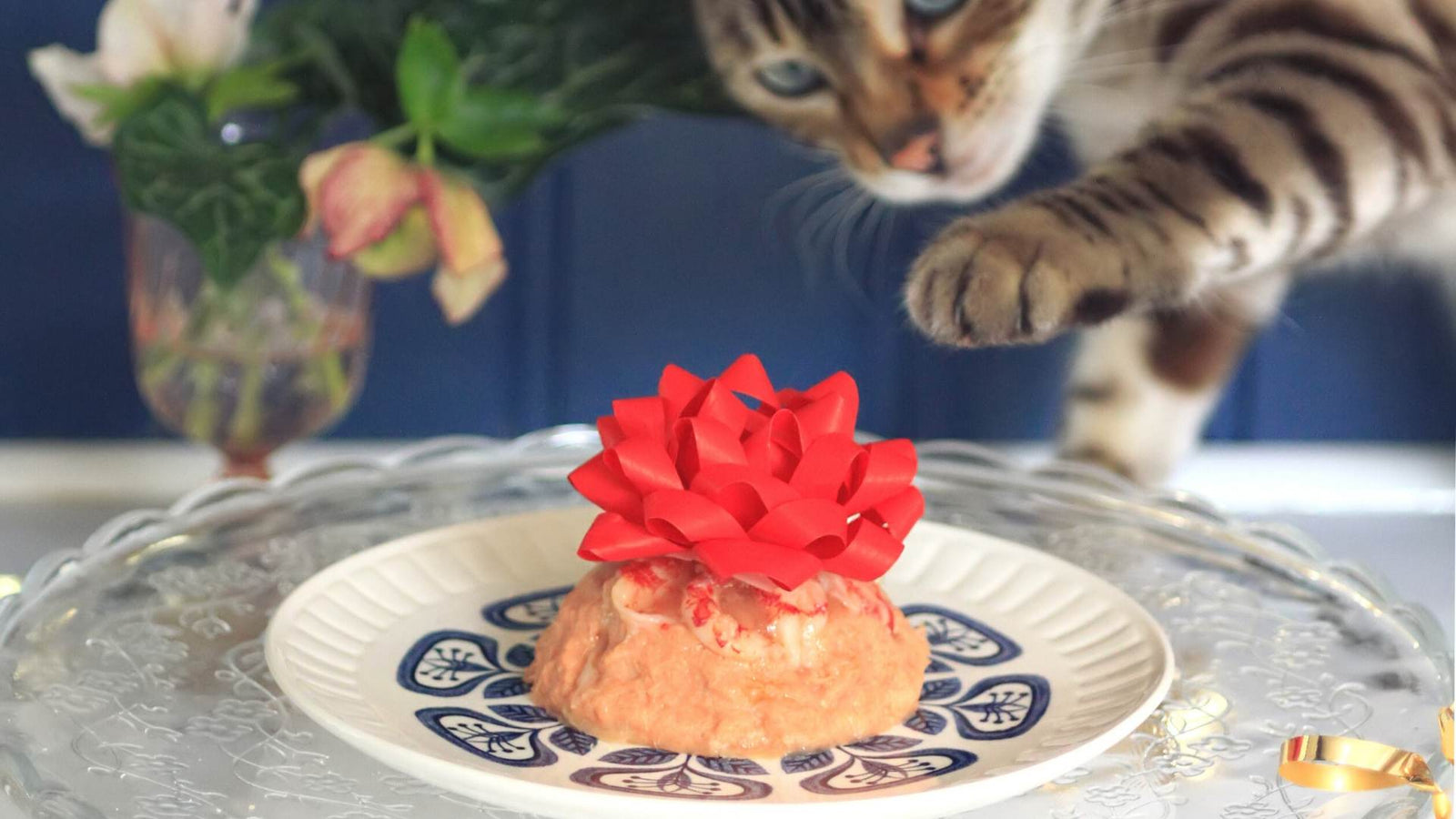 If your cat's birthday or gotcha day is coming up, what better way to treat them than with our cat birthday cake recipe!
I love this cat cake recipe because it's grain and gluten free, and so versatile - you can fill it with all of your kitty's most adored things to eat (we gave ours a seafood theme but it should work just as well with poached lean meat like chicken breast).
It's also super simple to make, and requires no baking at all!
This is actually a rather healthy cat birthday cake recipe, but do remember that even special cat birthday cakes should never replace your cat's main diet. It is however a perfect treat for those big days that demand something special on the menu!
Here's how to make our birthday cake for cats:
Salmon Surprise Cat 'Cake' Recipe
Ingredients
1 x 200g (7oz) tin of tinned fish in spring water (with no added salt) OR 100g (3.5oz) of fresh fish fillet (e.g. salmon / cod)
1 x medium egg
1 x sheet of gelatin leaf
6-7 small crayfish tails or prawns, cooked and peeled (optional)
Apparatus
Blender
Small jelly mould (approx 8cm / 3" in diameter)


Recipe

1. Arrange 4-6 of the crayfish tails / prawns into the bottom of your jelly mould. They will show through when you turn the cake out in the last step so try and arrange them prettily!
2. If you're using tinned fish, open the tin and drain the liquid off into a small bowl, reserving it for the next step (in the pictured cake, we used tinned salmon).
If you're using fresh fish, remove the skin and any bones. Poach gently in a shallow pan, just covered with water, until cooked through. Retain the poaching liquid for the next step.
3. Cut your gelatin sheet into two equally sized pieces. Place one half-sheet into a bowl of water to soak for 5 minutes, then squeeze out the excess water.
4. Place the pre-soaked gelatin sheet into a small pan, add 4-5 tablespoons of the liquid reserved in step 2, and heat very gently taking care not to boil. As soon as the gelatin dissolves, remove from the heat.
5. Pour the gelatin & fish juice mixture into your jelly mould, covering the crayfish/prawns and filling the mould around 1/3 of the way up.
6. Place in fridge to set for 4 hours.
4 hours later...
7. Place the second half-sheet of gelatin in water to soak for 5 minutes.
8. While your gelatin sheet is soaking, separate the egg white from its yolk, discarding the yolk. Place the egg white in the bowl of your blender. Add approx 100g of the salmon, and blend thoroughly to a smooth paste.
9. Transfer the pre-soaked gelatin and your salmon / egg white paste to a small saucepan and heat very gently, stirring continuously, until the gelatin has just melted.
10. Spoon the mixture into your jelly mould, filling to the top and flattening off the top with a spatula. Return to the fridge for a further 4 hours to set.
11. Once your 'cake' has fully set, dip the mould in a tray of warm water for a few moments to make it easier to unmould. Upend over a plate & serve to your cat immediately!
Have you made this cat birthday cake for your kitty? Share your creations with us on Instagram @supakitstore or Facebook @supakitstore.
Related posts: 'No bake healthy cat treats with pumpkin & turkey' and 'Homemade tuna cat treats your cat will go crazy for'
---