Does My Cat Need an ID Tag?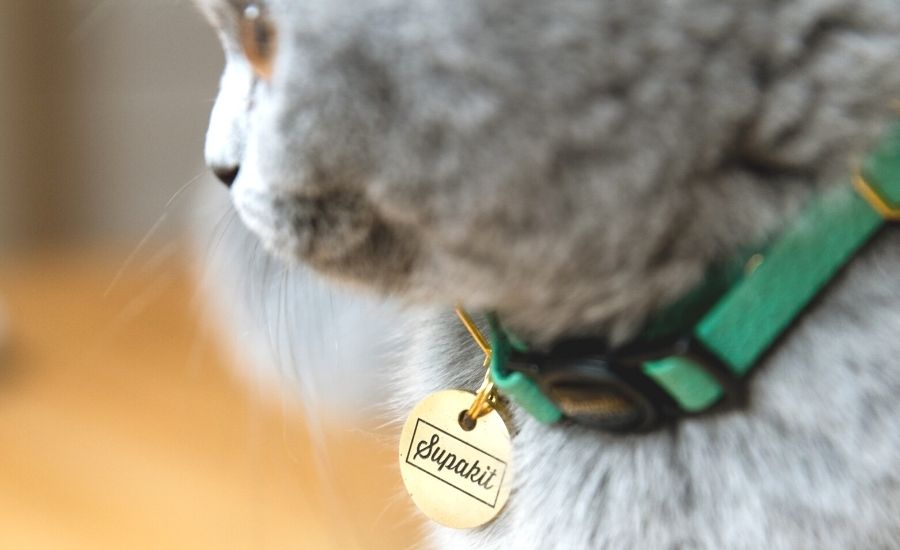 For most of us, our cat going missing is our worst nightmare. The idea of our sweet kitty roaming the neighbourhood alone, frightened and hungry is one we can't bear to imagine. But there is a highly effective and simple way to give your cat the best chance of being reunited with you – an ID tag.
 "An engraved tag with your contact details attached to a quick release collar which pulls apart if your cat gets their collar stuck on anything will help [your cat] be identified should they go missing."
How much of a difference will an ID tag make if my cat is lost?
A study by the Humane Society discovered that in the US, only 2-5% of cats held in shelters nationwide were reunited with their owners. The figure is 8 times higher for dogs. The reason? Putting visible ID on dogs is seen as the norm, but this is rarely the case for cats.
Heartbreakingly, for many missing cats taken to shelters without any form of identification, the outcome is tragic. Often, the holding period for a cat arriving at a shelter with no signs of ownership is a mere five days before they can be put up for adoption or worse, euthanisation.
For cats wearing collars, the holding time is usually increased, allowing staff to do their best to find owners. However, for cats with collars and ID tags, a reunion with their owner is swift, simple and painless.
"If every pet cat in the country (US) had a collar and tag, the number of cats euthanised...would drop dramatically".
Related post: The Supakit Story
My cat is microchipped, do they still need an ID tag?
Microchips are brilliant and it is advised that every cat should have one (indeed, depending on where you are in the world, it may be required by law). However, microchips are designed to be scanned at a shelter or by a vet, which means your cat will have to wait until it is either injured or taken to a shelter by a good samaritan for its microchip to be scanned and reveal its information. An ID tag starts working from the moment your cat is lost. It indicates to anybody who meets your cat that they have a loving home, and gives them a simple way to contact you to bring your kitty back as quickly as possible.
Microchips are also prone to malfunctions such as non-scanning, as well as simple human error when owners move or change their telephone number but forget to notify the microchip company.  
"Microchips are a good back-up option for pet identification, but should never be the main one"
For these reasons, it's a good idea to opt for both microchip and ID tag to ensure your cat can be easily identified without having to go through the ordeal of being taken to the nearest shelter or vet.
Do indoor cats need to wear a collar and ID tag?
It's understandable that many owners whose cats don't venture outside feel it unnecessary for their pets to wear a collar and ID tag. However, you might be suprised to learn that one study found that an unbelievable 40% of missing cats were indoor-only kitties who had accidentally escaped from their homes (1).
"Accidents happen. Think about a fire, a service person who leaves a door open, a child leaving a door open, a cat clawing its way through a screen".
Giving your indoor kitty an ID tag engraved with the text 'I shouldn't be outside' or 'If found outside, please call...' is a simple way to tell anyone who encounters them outdoors that they are lost and in need of help. With one phone call to the number printed on their tag, your cat will be back home - safe and sound. 
"Even indoor-only cats should wear collars...with an ID collar, your cat has a better chance of safely and quickly getting back home."
Do adventure kitties need a collar and ID tag too?
We get it! You've just introduced your cat to wearing one accessory - their harness, do you really need a collar and ID tag too? Unfortunately, harness escapes can happen while you're exploring outdoors, and if they do, your kitty is likely to be stranded in unfamiliar territory while you're left holding their harness and leash. For this reason, we would recommend putting a breakaway collar and ID tag on your kitty for every harness adventure (don't be tempted to put the ID tag directly on the harness) - so that if the unthinkable does happen, you've equipped your adventure kitty with their all-important ticket home.
I like the idea of putting ID on my cat, but...
There are a few reasons why you might hesitate to put an ID tag on your cat's collar. Here are a few of the ones we encounter most commonly here at Supakit:
I don't think my cat will accept wearing a collar: You're absolutely right that your cat will need to wear a collar to carry their ID tag, and we know that it can feel like a big deal putting a collar on your kitty, especially if they've not worn one before. However, we have found that if the collar is specially designed for cats (e.g. is extra slimline and lightweight), your cat will be able to go about their business without even realising they're wearing one! We also have a wealth of resources to help you introduce your cat to collar-wearing in a way that they will find fear free and fun. A great starting point is our collar introduction guide here.


I don't like the idea of putting personal contact info on my cat: We've got you covered! Simply check out our handy guide to what you should put on your cat's ID tag, including alternatives to personal contacts, such as your vet's details.


I'm worried that collars aren't safe:

It's a sad fact that poorly designed and badly fitted collars have been responsible for cat injuries in the past. But it's important to note that those events are both exceptionally rare, and can be avoided through the use of a

safe and well-fitted collar. 



Picking a safe collar: Choose a collar with a breakaway safety buckle (not elastic) that will trigger if your cat ever gets snaggled, and make sure that the breakaway buckle is weight-rated for your cat's body weight so that you can be sure that they are heavy enough to trigger the safety mechanism if they ever need it. It is also worth looking for a collar that is ultra-slimline and designed to sit closely to your cat's body, as this can prevent collar snags from occuring in the first place.


Getting a good fit: Many collar accidents are a result of improperly fitted collars, particularly when owners leave them too loose. Make sure that your cat's collar is snugly fitted (so that you can squeeze one fingertip only, flat to your cat, between the collar and their skin). This not only reduces the risk of snags but is vitally important in preventing your kitty from being able to get the collar in their mouth.  
Where can I find a good quality ID tag for my cat?
Here at Supakit we've spent years developing the perfect ID tag for cats. Made from mirror-polished gold metal that will keep its lovely shine, each tag can be deeply engraved with up to four lines of your custom text. Best of all, they're a little smaller than usual pet tags so they won't add weight to your cat's collar as they go about their daily adventures! Check out our cat ID tags here.
---
References
1. Lord, L. K., Wittum, T. E., Ferketich, A. K., Funk, J. A., & Rajala-Schultz, P. J. (2007). Search and identification methods that owners use to find a lost cat. In Journal of the American Veterinary Medical Association (Vol. 230, Issue 2, pp. 217–220). American Veterinary Medical Association (AVMA). https://doi.org/10.2460/javma.230.2.217
Show more
Show less
---