Product Spotlight: The Supakit Cork Harness Range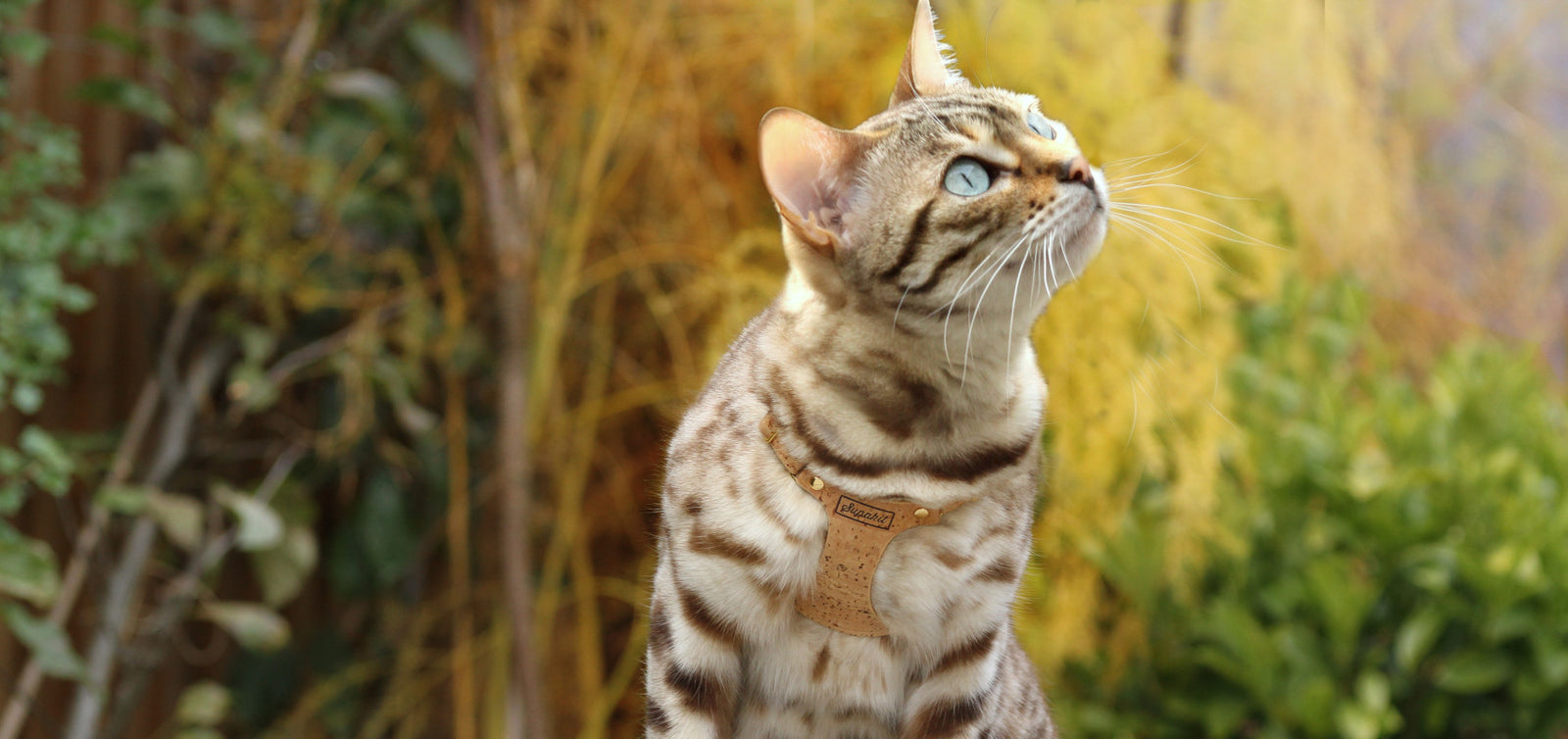 When you think of cork, undoubtably the first thing that springs to mind is of course, the wine cork. Hard, rigid and solid – not your first choice of material for a cat harness, surely?!
It was when visiting the manufacturer of our leather collars and harnesses in Spain, that we couldn't help but be intrigued by the acres of forests with trees sporting an unusual look. The trunk of each tree had seemingly been stripped of its bark. The further we drove, the more we discovered hectare after hectare of trees with this stripped appearance. Sheer curiosity led us to research what the bark was being harvested for and we were delighted to learn that it was, in fact, for the manufacture of cork in various guises!
Excitedly, we headed back to discuss our revelation with José, the owner of the workshop that produces our leather goods. Believing that he would be as equally astonished as us, we were slightly crestfallen to learn that our 'find' was in fact a centuries old industry that this particular region of Andalusia was renowned for. However, disappointment soon turned to elation when we realised that cork could and would be the perfect alternative to leather for our vegan harness range.
José kindly went on to introduce us to local cork manufacturers in his province and the more we learned the virtues of this wholly sustainable material, the more we became cork's number one fans (it's true, we've had T-shirts made and everything). This magnificently durable and supple medium is actually made from the super thick bark of the cork oak tree, which are found in abundance in the Andalusia region of Spain. The bark itself acts as a barrier to protect the delicate inner tree from the elements and is therefore water, rot and termite resistant as well as being soft and buoyant. A solid all-rounder, we're sure you'll agree!
Low Carbon Paw Print
We went on to learn that cork is incredibly sustainable. A cork oak tree must be at least 25 years old and 70cm in circumference before the bark can be harvested, giving it a good number of years to clean those carbon nasties out of the air for us (in fact, cork oaks absorb 3-5 times more CO2 than non harvested trees). It is then harvested every 9 years thereafter, allowing the bark to grow back. Considering the cork oak can live for up to 200 years, that is a lot of renewable harvesting from one tree! The bark is removed by hand causing no damage to the tree, ensuring the preservation of the cork oak forest and its ecosystem. Thus, a much lower carbon foot (or paw) print in comparison to other materials.
Cork for the win!
Still can't get your head around a cat harness made of cork? Don't worry, we're here to serve you more cork-related delights! Once stripped and boiled, the cork becomes unbelievably soft and supple. With smooth, rounded edges our cork harness moulds beautifully to your cat's body and is so lightweight and breathable that they barely notice they're wearing it. Cork is also very hardwearing and totally waterproof, so it's ideal if your kitty is a water baby or even if you live in a rainy climate – we have firsthand experience, we live in London.
Watch our video below showing the soft and supple texture of the Supakit cork harness.
Check out the list of benefits of our cork harness range:
Soft and supple – moulds to your cat's body effortlessly offering comfort and security.
Hardwearing – our cork harnesses are hardy and scratch resistant so they look great for a long time!
Waterproof – water droplets sit directly on top of cork and do not soak through at all, meaning your kitty won't have to endure a soggy harness.
Lightweight – our cork harnesses are as light as a feather so they're comfortable for even the teeniest cat.
Sustainable – cork has a very low carbon footprint as well as being  sustainable and vegan, a triple threat if you will…
PETA-Approved Vegan - both our cork harness and textile collar ranges are PETA-Approved Vegan.
Gorgeous - lets face it, it looks fab!
Related posts: 'How To Harness Train Your Cat'
---