Homemade Tuna Cat Treats Your Cat Will Go Crazy For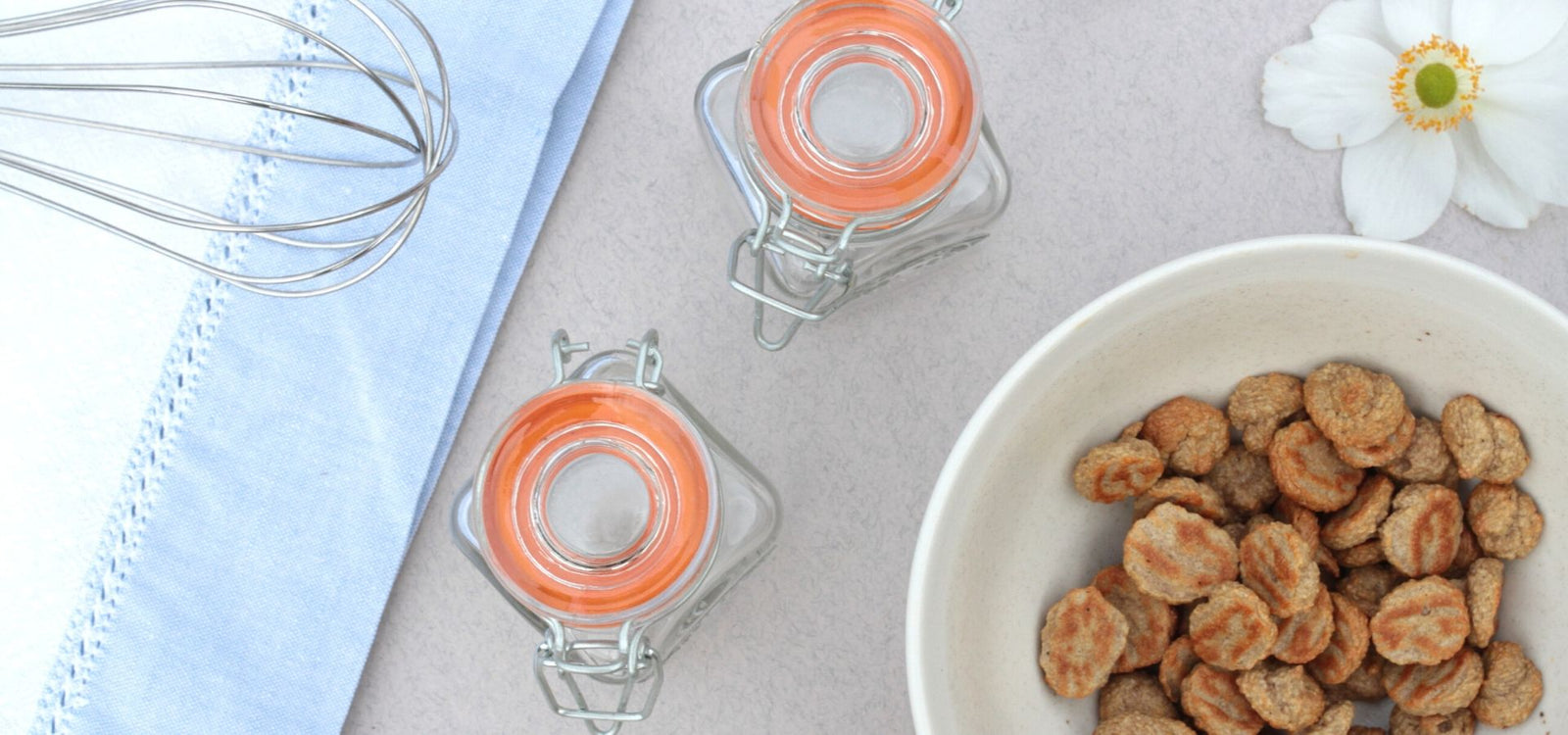 I'm so excited to share this recipe for diy cat treats with you. Introducing my homemade two-ingredient tuna cat treats, that take just minutes to make, and are naturally grain, gluten and dairy free!
These diy cat cat treats were borne out of necessity when I started harness training Lyra and Lola, and needed to find a snack that I could give them as a reward. Commercial cat biscuits went down well, but I couldn't shake the feeling that they were full of all sorts of mystery ingredients, and pretty carbohydrate heavy.
Then I tried tinned tuna, which was another winner, but I ended up with flakes of tuna ALL over the house - NIGHTMARE! (There is still a key on my piano which isn't working because there is dried tuna down the side of it!). 
Finally, I scoured the internet looking for diy cat treat recipes I could make at home, but all of the ones I could find relied heavily on the very grains and cereals that I'd tried to steer away from in the commercial treats. So I decided to come up with my own recipe, and let me tell you - they have gone down a storm!
Making these treats was such a fun activity to do with the cats - Lyra and Lola loved 'helping' me in the kitchen (read: trying to lick EVERYTHING at EVERY opportunity!). And even fussy eater Lyra now goes doo-lally for them. 
For those of you that are whizzes in the kitchen, you'll probably recognise the method... this is essentially a tuna meringue, without the sugar.
Mull that one over... or let's just get straight on with the recipe! 
Homemade Grain-Free Tuna Cat Treats
Whip up a batch of homemade tuna cat treats your cat will LOVE. They're grain, gluten and dairy free!

Prep time: 
Cook time: 
Total time: 
Yield: 50 cat treats
Ingredients
1 egg
1 tin tuna in spring water (not brine), thoroughly drained (approx 120g / 4oz)
Recipe
1. Preheat your oven to 170C / 330F and line a baking sheet with greaseproof paper or baking parchment.
2. Crack open the egg and separate the white from the yolk. Discard the yolk and place the white in a large mixing bowl.
3. Using a hand or electric whisk, beat the egg white until stiff peaks form when the whisk is removed. Set to one side.
4. Empty the can of tuna into the bowl of your blender (I find a mini blender works perfectly for this task). Add two tablespoons of the whisked egg white to the tuna, then blend thoroughly until the mixture is a smooth paste and there are no flakes or lumps.
5. Using a spatula, remove the tuna paste mixture from your blender, and fold it gently into your remaining whisked egg white. Take care not to knock too much air out of the mixture while you are combining the two.
6. Transfer the resulting mix into a piping bag with a small star nozzle attachment. Pipe the mixture into small rounds on the parchment-lined baking sheet. Take care not to make the swirls too large (as this would make it tricky for your cat to eat the treats). 
7. Place in the oven for 20-25 minutes, until the treats feel dry to the touch and dislodge easily from the baking parchment. Transfer to a wire rack to cool, and then into airtight jars for storage. If kept cool and dry, they should store well for up to 2 weeks. 
The resulting nuggets of tuna-ey goodness actually get a little harder once they are out of the oven and fully cool. The final result is a crunchy, tuna snack that is so good - shameful admission - that we've actually started helping ourselves to the odd one here at Supakit HQ! They're a little on the dry side for human tastes, but I can't help feeling they'd be the perfect savoury bar snack to accompany a dry martini. Shh... don't tell anyone...
Don't forget that these are still treats - so they shouldn't replace your cat's regular diet. Treat them like the treats they are, and your cat will soon realise that when they get one they must have been really good.
---