How We Adventure with our Blind Cat (@fantastic.mr.fawkes)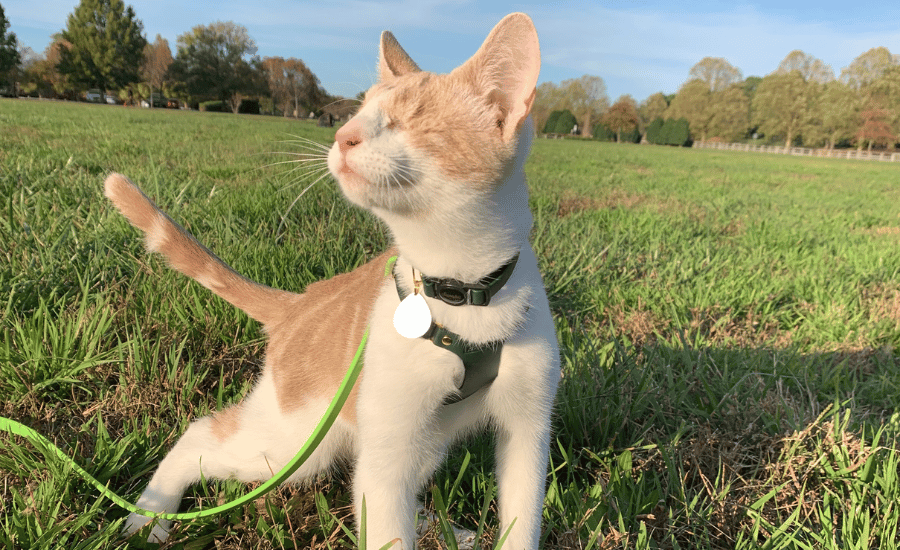 Is it possible to leash-train a blind cat? Yes, you absolutely can! Just like cats who have their sight, blind cats can learn to love exploring the outdoors. We spoke to community expert Zoë Churchill who shared her tips on training and what adventuring is like for her blind rescue kitten, Fawkes.
Scroll down for the chat highlights or watch the full episode on our YouTube channel.
Meet Fawkes
Fawkes came into Zoë's life when he was a few months old. He'd been surrendered at a local shelter, suffering from a severe respiratory infection that had damaged his eyesight. He was very poorly, and the veterinary surgeons treating him were forced to do an emergency surgery to remove his eyes.  
Fortunately, had been Zoë watching his progress online and when he started to regain his health, she couldn't resist going to meet him. When she did, he climbed into her lap, and she knew instantly that he would be coming home with her!
Because of Fawkes' respiratory issues his foster parents had been taking him outside for supervised sessions in the fresh air, which was good for his lungs. They also noticed that he loved listening to the birds chirping. So about a month after bringing Fawkes home, Zoë decided to harness train him to give him a safe way to enjoy healing fresh air and the stimulation of being outside! 
How to harness train a blind cat
It might come as a surprise, but the process of harness training a blind cat is very similar to training a seeing cat.
"With harness training, I think the key thing would be to just take it slowly and go at their pace. Harness training a blind cat isn't all that different to harness training a regular cat – you just have to pay a little more attention to their cues." – Zoë
Introducing a harness and leash is a process that should be done gradually over time, allowing a cat to become comfortable and familiar with all of the sensory elements that come with new accessories before wearing them.
If your cat is new to a harness and leash, we created a free 10 day harness training bootcamp that guides you step-by-step through the process. We also offer comprehensive training with our expert-led complete cat harness training course.
Do blind cats need special harnesses or leashes?
No, blind cats do not need special harnesses or leashes however, it is important to consider your blind cat's senses when choosing their apparel. In our chat with Zoë, she mentioned how Fawkes loved his Supakit collar and harness, contributing much of this success to the feel and smell of the material. As blind cats rely more heavily on touch and smell, our leather collar and harness proved to be a huge success with Fawkes enjoying how this butter-soft material sat against his fur and smelled right to him!
How do blind cats navigate new spaces?
Blind cats rely on all of their other senses to navigate new spaces. Zoë explained her process for taking Fawkes somewhere new.
"When we go to a new place, [Fawkes] does like to take a couple of minutes, stay in one spot and sniff and listen to everything around him. I usually don't encourage him to walk anywhere else for a few minutes, and make sure he feels safe." - Zoë
Again, all of Fawkes' other senses come into play. Blind cats build a picture of new places with their sense of hearing, smell and touch. Their whiskers prove to be excellent helpers in locating potential objects as they move around.
Zoë also uses sound cues to help Fawkes move in a desired direction (although, he does like to follow his own path sometimes!). Using her voice, or tapping her leg, she can help Fawkes navigate new spaces safely. Patting and tapping is also a technique she uses to help Fawkes navigate vertically by tapping the top of a bench or unit so he can judge his jumping distance – how clever!
Is it safe to take blind cats outside?
Yes, it is safe to take blind cats outside but they should be accompanied at all times. If a blind cat is exploring on a leash, it should be confident and comfortable in a harness and its safe space. If you want to learn how to backpack train a cat, you can read more here.
For any cats that explore outdoors, it's also super helpful to put a breakaway collar on them and a visible ID tag. If for any reason your cat wanders a little further than you'd like, the ID should help them be reunited with you.
Thank you so much to Zoë for sharing Fawkes' story and showing us that blind and rescue cats are just as capable of learning new skills as seeing cats and kittens.
If you want to follow Fawkes' adventures, check out his Instagram.
If you loved this article, you'll love:
---