How we travel full-time with our rescue cat (with @somewhat.gypsea)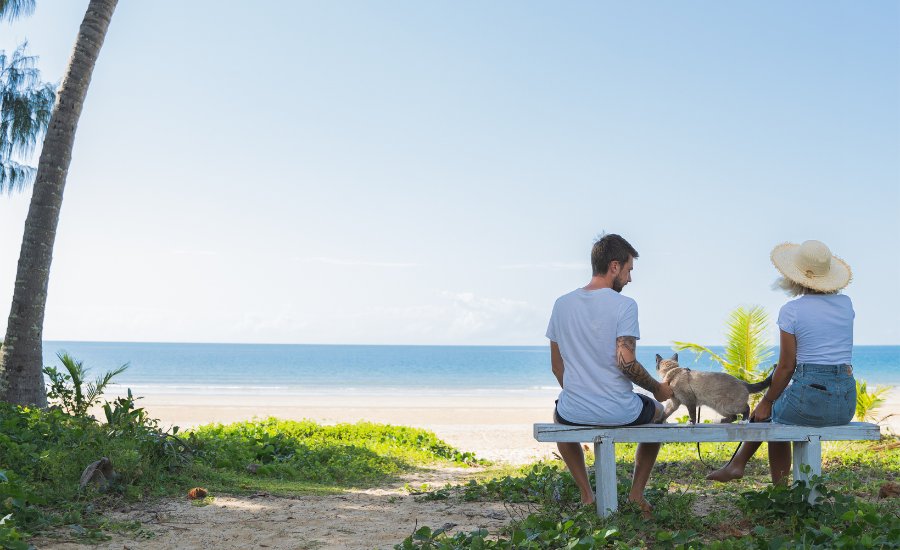 When the COVID pandemic left Julie and Dan without jobs, they considered a new route… van life (Ok, so technically they opted for bus life)! Although they were sure they could adapt to life on the road, how would their senior rescue kitty Nala take to it? They spoke to Supakit about the realities of van life with cats and travelling Australia and how their once timid cat Nala surprised them every step of the way!
You can watch the episode on YouTube or scroll down to continue reading. 
Meet Nala
Nala was seven years old when they adopted this gorgeous cat. They knew they wanted a cat but when they arrived at the shelter, Nala chose them! After many head bumps and cuddles, Julie and Dan confessed they couldn't leave without her and so she became part of their family. Initially, Nala was very timid and came with no background information. After a little time in her new home, Julie and Dan saw her personality start to blossom and felt confident she could handle life on the road with them – they were right! Nala took harness training in her stride and is now a confident explorer who loves hanging out in the shade and even paddleboards.
Can you harness train an older cat?
Yes, you can harness train an older cat and Nala is proof. When Julie and Dan decided on a life on the road, they knew that harness training would be an essential part of that. They began by researching online for cat harness training resources and a cat harness that would allow Nala to explore safely and comfortably.
'It may take longer to train an older cat, but it is possible. All it takes is a little time, patience and love.' – Julie
Unlike kittens, older cats can take a little longer to adapt to new situations or experiences but they can learn with time and gentle encouragement. As every cat learns at their own pace, it is important to work at the level your cat is happy at.
Shop Nala's fave collar, harness and retractable leash.
Can you train a rescue cat?
Cats are proving more and more that they are completely capable of being trained, but what about rescue cats? Julie and Dan admit that due to the limited information they had about Nala, they weren't sure how receptive she would be to training post-shelter. But, as ever, she surprised them! This rescue kitty has proved that how you train a cat, is the most important thing.
Related: Supakit's Complete Cat Harness Training Course
Nala had a whole host of skills to her name – not only does she travel by bus, car, bike and scooter (on the odd occasion) but she has even learned to paddleboard!
'I'm so proud. I just never thought Nala - the cat we got from the shelter - could end up being comfortable in such an element, surrounded by water. Every time I do that with her, I just feel this is a magical moment.' - Julie 
How to travel with a cat
If you're dreaming of travelling with your cat, once you have the fundamentals in place (harness & backpack training), you want to consider how you're going to travel. Julie and Dan first introduced Nala to riding in the car – which went well - but what they didn't consider was how different a car would be from a bus!
'We started with car rides - Nala was super comfortable in the car. We thought the bus would be great but the first night... it didn't go so well. She was really scared of the sounds the bus made and the loud engine. We went back to the drawing board.' - Dan 
Julie and Dan took Nala out on a tester ride first which is a great idea when introducing your cat to a new experience. It's really helpful to break the whole process down into stages so your cat can adjust gradually. Designating a space for your cat where they feel safe is also really helpful. In the beginning, Julie and Dan made Nala her own quiet, cool cubby but when settled in, she chose her own spot – under the bedcovers! Over time, you can increase the amount of time your cat spends in the vehicle.
Related: How we go Biking With Our Cat (with @oliverscatventures)
How to make your van (or bus) cat-friendly
Cats are creatures of comfort and they like to be surrounded by familiar things. Before you embark on a grand adventure with your cutie, consider ways you can adapt your mobile home to make it like a home-from-home for your cat. Include their fave bed or blankets, and designate an area where they can eat and drink, eliminate, play and scratch freely. In a small space, you may have to get creative! Oh, and don't forget to add options that allow your cat to explore vertically too, like shelves or high-placed beds.
How to find cat-friendly places near you
Travelling with a cat comes with its own set of considerations and laws/rules about where cats can go, varying from country to country.
'You have to research where you can and can't go with a cat. There are a lot of areas [especially in Australia] that have a total cat ban. You see people on Instagram in these places so you think it must be okay, but it's not.' - Dan 
Fortunately, Supakit have a community-sourced cat map which is full of tried and tested, cat-friendly locations across the globe! If you have a fave kitty hang-out spot, why not share it with the community? 
Thank you so much to Julie and Dan for sharing Nala's amazing story and sharing their experience of van life with a cat. If you weren't dreaming of hitting the open road with your kitty before, you might be now! We hope if adventure does take you out on the road, Julie and Dan's insight will get you off to a great start. 
You'll love these! 
---