What Information Should You Put On Your Cat's ID Tag?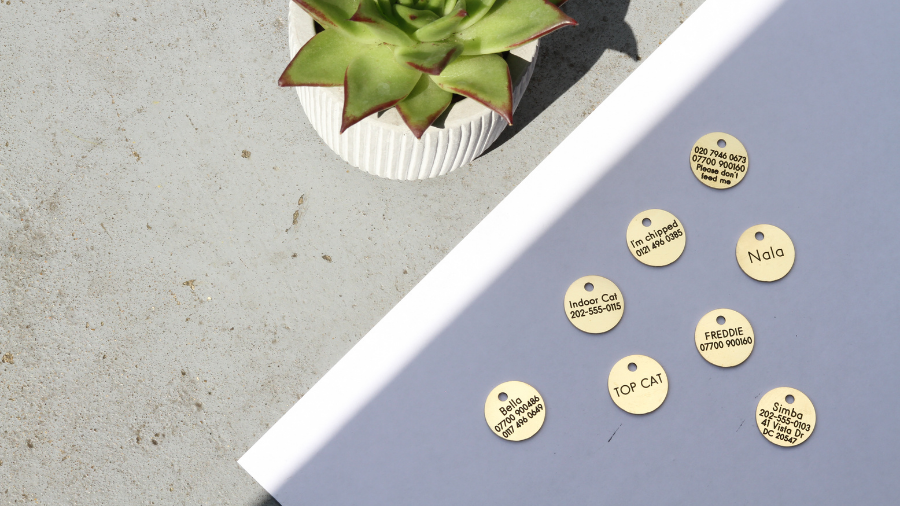 If your cat goes missing, the person who encounters them first is likely to be a member of the public. They won't have a microchip scanner. But they will be able to read an ID tag.
That ID tag needs to help your cat say three things:
1. 'I'm not a stray': Simply wearing a collar and ID tag can communicate to others that your cat already has a loving home and isn't a stray in need of food or shelter.
2. 'I'm that missing cat': An ID tag should offer a way of verifying your cat's identity, so that if a person has seen your 'missing cat' poster or social media posts and then spots your cat, they can check it's the right one. 
3. 'Here's how to contact my human(s)': Your cat's ID tag should provide a means of contacting you.
But with space for engraving at a premium, squeezing everything onto a single cat ID tag can be tricky. So which pieces of information do you really need to include on your cat's ID tag?
Let's look at the options...
The essentials
Your telephone number
Of all of the information you could include on your cat's ID tag, a telephone number is of very high importance. In fact, if you only put your telephone number on your cat's ID tag it will probably do the trick. It will allow members of the public to contact you quickly and easily if they find your cat, and also to notify you if it has been injured and is in need of urgent help. 
Make sure that this is a number that is up-to-date and that you're likely to answer (e.g. don't put your home number if you're out at work all day). 
However, if you feel reluctant for your cat to display your personal phone number in public, for whatever reason, an alternative could be your vet's phone number or even an email address. In either case, be sure to notify your vet of your intentions and ensure any email address used is up to date and checked regularly.
Your address
If your cat escapes or gets lost it will likely stay in the local area. An address will enable people in the neighbourhood to identify your cat as local, and potentially bring them straight home. (But don't forget, many people wouldn't feel confident enough to pick an unfamiliar cat up and bring it home to you, so an address is not as effective as a telephone number).
Your cat's name
Putting a cat's name on their ID tag is a popular choice. Not only is it a nice personal touch, but it can help any good samaritan verify your missing cat's identity against a missing poster or social media post, and empower them to take action. 
The downside is that it carries a very small risk of exposing your cat to theft. If your cat is particularly desirable or expensive, a thief who knows your cat's name is much more likely to be able to convince the microchip company that they are the new owners than if the name remains a mystery to them.
In the end, it's up to you. But if you feel nervous about including your cat's name, there is a good alternative…
Your surname
Including your surname on the tag ticks the box for an easy thing to cross reference with a missing poster, but it doesn't carry any risk of helping cat thieves. Win-win!
Related post: 'The Supakit Story'
Other information you may want to include
Please do not feed me
Especially useful for outdoor cats, dissuade neighbours from giving them 'double-dinners' with a note asking them not to give your cat food. 
I'm chipped
A handy extra, but hopefully if your tag includes your phone number the person who finds your cat won't need to take them to a vet to get their microchip scanned. It can, however, dissuade cat thieves.
I'm neutered
If your cat is a pedigree cat, it may worth be pointing out to would-be cat thieves that they are neutered and of no value as a breeding cat.
If I'm outside please phone ... 
or
I shouldn't be outside
If your cat is an indoor cat, it can be useful to include a note on the tag alerting anybody who finds them outside to ring you straight away. 
Any medical issues (e.g. allergies)
If your cat has medical issues that a vet should be aware of (e.g. life threatening allergies) it is worth including those on the tag. 
Additional contact numbers
If you've still got space left on your tag, is there anything else you should include? We would recommend using any additional lines of text to include back-up telephone numbers - either for your vet's or a friend or family member - to increase the chances of someone who has found your cat getting through. 
Related post: 'Does My Cat Need An ID Tag'
---