9 Things We Learned From Our First Taste of Van Life With a Cat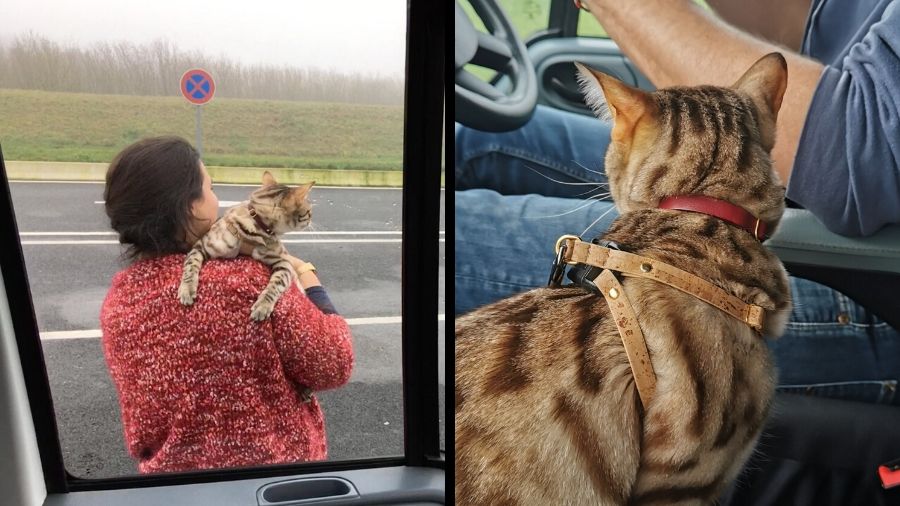 The idea of travelling with our cat Lola is something we've been wanting to do for a long time. Unlike our other cat Lyra who is much more reserved, Lola is a sociable sort, who adores human company and spends night and day by our sides.
It's always made us wonder - do we have to leave her at home when we travel? Or could she come with us? This year, we decided to find out.
Our first decision was to opt for a campervan (motorhome) adventure. We figured that the camper could become an extension of her cat territory so that she always had a place of safety and security with her, wherever we are on the road.
The campervan we chose is what's known as a 'network rail welfare van' - that is, a panel transit van that has been professionally adapted as a mobile canteen / bathroom for railway repair workers so it has hot running water, heating and bathroom facilities already installed.
We then took the canteen seating out, installed a day bed that folded out to a full size bed and made a few cat-specific mods which I'll describe below.
And then we took our cat Lola with us on a 5 day campervan tour of France. I'm not going to lie, it was a steep learning curve but we had a fabulous time, and we're definitely going to do it again. I asked our community on Instagram (@supakitstore) what questions they had about traveling with a cat in a van, and have answered them as best I can, based our experiences from this first trip.
1. How do you manage your cat's facilities in the campervan - the litterbox, food etc?
Given how much new stuff Lola would be experiencing on the trip, we were keen for her food and water facilities to be as similar as possible to those at home. We found that her regular cat bowls were wide enough to get good traction on the van floor and not slide as we drove, so we used her regular food and water bowls on the trip.
We also ended up mixing warm water into her wet food each day to make sure she stayed extra hydrated in case she forgot to drink enough on the road.
For the litter tray we installed a catflap between the main compartment with the sleeping quarters and the bathroom at the back, and put her camping litterbox in the bathroom area. Fortunately, she is pretty familiar with catflaps already, and worked out almost instantly how to navigate between the two!
2. Does your cat do their business outdoors or in a litterbox?
Lola prefers to go in a litter tray so all of her 'business' happened in the litter tray in our campervan's bathroom. But we did come prepared with poop bags, and to be honest if she'd felt comfortable going outside it would probably have made camper living with a cat much easier!
3. How do you stop your cat demolishing the campervan?
This was a mixed success! I think on our next trip I would make sure we incorporate some scratching posts into the van design (my pinterest is full of RV cat trees now!), because I've noticed that she's tearing away at her home scratching mats, as though she's really missed having them.
What we did find is that there were two occasions when she had wee accidents on the bed of the camper. A few days into the trip we discovered that when the van's heating is on it blows warm air across the door of her cat flap, and the breeze was putting her off going to the litter tray in the bathroom. We're definitely going to re-route those air vents before the next trip!
Fortunately, I had foreseen that accidents could be an issue, so had covered the mattress of the bed in a waterproof cover and sheet. It was pretty easy to strip it off, drive to an automatic laundry and get it washed while we waited - so no major crisis - but definitely something to work on for future.
It was while we were laundering our bed sheets that I realised I didn't have such a good contingency plan for if this had happened on the van's front seats. And Lola had taken quite a shine to sleeping on them at night. So on one of these supermarket trips we bought some disposable baby changing mats and put one on each seat between the seat covers and the seats themselves.
You would never know they are there, but at least I know that if Lola has an accident, or indeed - if we spill a coffee whilst driving, there's only the cover to wash rather than the seat itself.
4. Does your cat get stressed from moving around so much?
The beauty of a campervan is that as long as your cat is well acclimated to the space (we took Lola in the van every day for the month leading up to the trip), then they're always 'at home' in the van wherever you are.
That said, for the first two days we definitely did too much driving and Lola let us know about it by meowing furiously. After that we learned to take things at her pace, and she really chilled out. By the end of the five days she was happily snoozing in the camper as we travelled, and waking up to look out of the window in a sort of 'oh look the world is drifting past, I wonder if there are any bunnies in the hedgerows' way rather than the wide-eyed 'what is that? what is that? WHAT IS THAT?' style of her first day trying to take everything in.
I know some cats can get carsick and the vet can prescribe meds to help with this. We didn't see any signs of sickness in Lola but on the last day's drive home which was a bit longer than I thought she'd be comfortable with, I mixed a small amount of catnip into her wet food and it seemed to mellow her out a bit.
(She was actually a total dream on the way home and it was just as well, because our van got pulled over for a customs inspection on the way home! I had to stand out in the middle of the busy eurotunnel customs point with Lola on my shoulder while they X rayed our van, but she took it all in her stride and charmed all of the French border agents in the process!)
5. How did you keep your cat from escaping the RV?
I'll be honest, we really didn't give this enough thought before departure, but we did work out some good RV mods for cats on the road that I'm going to convert into permanent solutions now that we're back.
Rather than have her restrained all of the time whilst driving, we used our windscreen insulation insert to make a makeshift barrier between the cab of the van and the main sleeping compartment. Then we arranged things so that when Lola was in the front cab with us, we'd have her in her Supakit cat harness, on a locked retractable cat leash, that we carabinered to the seatbelt of her seat.
(As an aside, when we first set out we were using a dog seatbelt leash that plugged into the seatbelt attachment but the buckle on it was just too bulky for a small cat. I may have a play in the workshop with making a version of the dog-style seatbelt that has a smaller cat-size buckle on the end.)
For longer journeys, we would put her in the middle (sleeping) section, still wearing her harness but untethered so that she could curl up on the bed and wander through her catflap to the litterbox in the back if she needed. We kept her Gatsby harness on so that it was quick and easy to clip her into her leash when we opened the door.
Finally, at night, we'd take her harness off and just leave her in her breakaway collar and ID tag.
We also used a tile tracker for the first time which I have to say worked a TREAT! It was perfect for our needs, in that we could 'ring' it any time Lola was hiding from us in the van (her new favourite game) to check she was onboard. We'd often do a 'roll call' before setting off anywhere to make sure we could hear her tracker ring.
There was one time at an aire stop where Lola did weasel her way past us as we were closing a door and had an off-leash stroll around the grass. I obviously nearly died of fear but Kevin reminded me that she'd come back to us, and she did - and knowing that she was trackable (up to 400ft) with her tile did help me chill out a little too. This is not sponsored by Tile, in case you wonder!
6. Did you make any RV mods for your cat?
Besides the litterbox catflap, waterproof seating / bedding and improvised barrier between front and back we didn't make any huge mods to the van to accommodate our cat passenger! But for future journeys I'm going to create a permanent barrier between front and back with zip in net linings and opaque linings so that we have options on whether we can see into the back or not. I may make similar barriers across the sliding door and back doors too, depending on how well my first attempt goes!
We're also planning to put in a few extra tether points inside the van, in case we need to clip Lola into the van while the door is open (always supervised, of course).

7. Did your cat get annoyed being restrained every day whilst driving?
Lola coped with being restrained pretty well. She'd forget the harness was there but did get a bit frustrated at not being able to sit on our shoulders as we drove! We saw improvements in her day by day, and by the last day she was happy sitting on her seat up front and wasn't trying to hide under it any more.
8. What paperwork is needed for cats to cross borders? How does it work with vaccines, passports etc?
We got Lola an EU pet passport, for which she had to have a rabies jab a month prior to departure. This was all done at our vets and cost about £170, if I remember correctly. As we're based in the UK and Brexit is around the corner, there's a possibility that her EU passport will cease to be valid and/or she'll need additional rabies blood tests prior to travel after Brexit, but it's still very much up in the air, so we've decided to watch and wait.
9. What do you do with your cat when you go for a long hike or have to leave the campervan for a period of time?
I'll be honest, we didn't really feel comfortable leaving Lola for long periods of time or taking her on long hikes during this trip - as we felt we were already asking a lot of her and wanted to make sure we were operating in her comfort zone.
But I'm excited to do more of this on future trips. I'm going to use the time in between to get her used to being left on her own in the van while it's parked in our driveway (it's toasty warm, has ventilation and is familiar to her so this shouldn't cause her any distress) - starting with short periods of time and building up from there. I'm conscious that this first trip was in the depths of winter too, but we'll have to think about how we make the van safe and comfortable for Lola if we go away in the heat of summer.
I'll also use this time between trips to do some training with her for longer hikes too - to get her comfortable with sitting on top of her backpack while we do all of the walking when we want to cross distances that would tire her out or that she just won't be inclined to traverse!
Related posts: 'How To Travel With A Cat' and 'Find Cat Friendly Places Near Me - The Supakit Cat Map' 
---